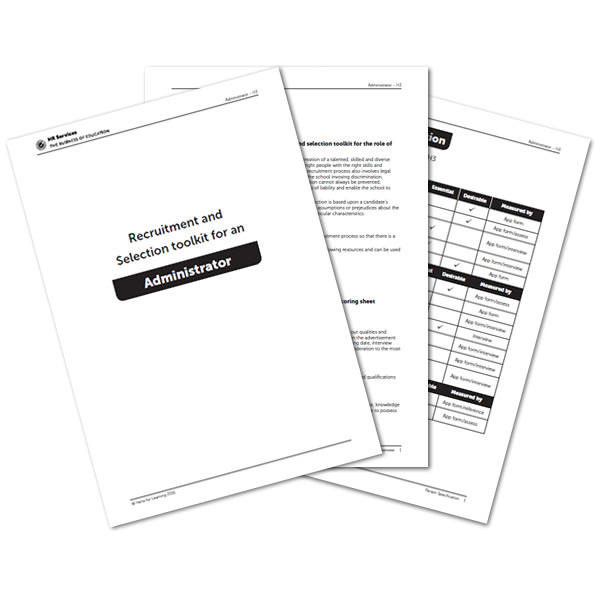 Recruitment and Selection toolkit for an Administrator (H3)
HFL0038

A good recruitment process will ensure that selection is based on the candidate's skills and abilities to perform the role. For non-teaching roles we have developed a new product which will support senior leaders with recruiting and selecting the best available candidate. The "cluster" of materials will include:
An overview
Advert
A job evaluated job description
A person specification
Selection shortlisting grid
Selection of competency based interview questions
A role appropriate assessment (with accompanying scoring sheet)
Best practice Guide
The job advert includes an overview of the role and includes what qualities and experience the ideal candidate would have.
The job description includes a summary of the responsibilities, competencies and knowledge required.
The person specification is a breakdown of qualifications, skills, experience, knowledge and personal attributes that are either essential or desirable for a candidate to possess to perform the duties of the role.
The shortlisting grid allows you to rate each potential applicant against the person specification for the role. This will provide you with clear scores for each candidate and aid your shortlisting discussion.
The competency based interview questions require candidates to give examples within the particular competency. Score sheets are provided to help you assess the responses.
All roles have role appropriate assessments – whether that be a role play, in tray exercise or skills test.
£0.00 (ex VAT)
£103.00 (ex VAT)