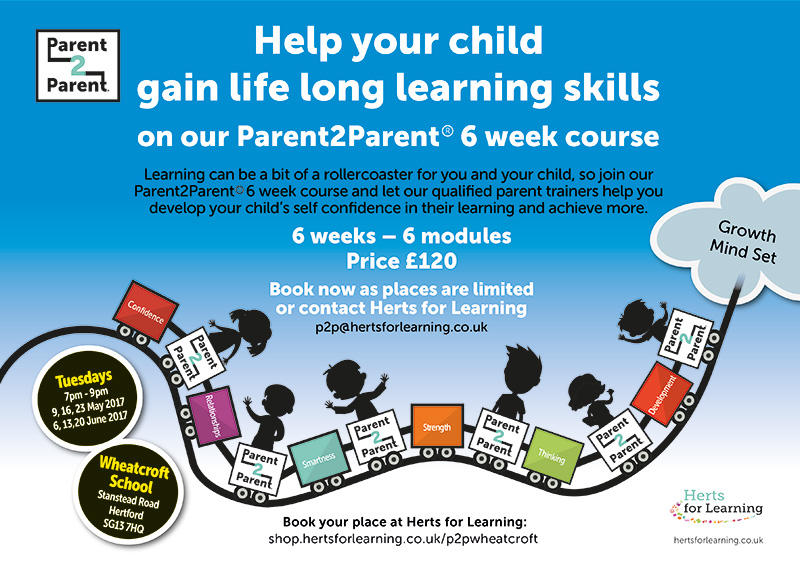 Parent2Parent® course for primary level parents
HFL0057
Help your child gain life long learning skills on our Parent2Parent® 6 week course
Learning can be a bit of a rollercoaster for you and your child, so join our Parent2Parent® 6 week course and let our qualified parent trainers help you develop your child's self confidence in their learning and achieve more.
6 weeks – 6 modules targeted to parents of primary school aged children.
Tuesdays 7pm to 9pm
9th / 16th / 23rd May
6th / 13th / 20th June
Wheatcroft Primary School
Stanstead Road
Hertford
SG13 7HQ
Price £120 (inc VAT) incl all training materials and resources
Book now as places are limited
What is Parent2Parent®?
National research has repeatedly demonstrated that parents and carers are the most influential factor in the long-term academic success of their children. In response to this, Herts for Learning, the UK's largest not for profit Schools Company has developed an innovative new programme for parents and carers, Parent2Parent®.
Parent2Parent® is different from other parenting programmes, which focus on parenting skills and managing a child's behaviour. Parent2Parent® lifts the lid on some useful teaching techniques and explores how teachers motivate children and promote learning. The programme is not designed to challenge or promote any parenting style. It is universal, and proven to have an impact on children from all backgrounds and all walks of life.
The Parent2Parent® programme shares a number of simple, proven and effective ideas that parents and carers can adopt to help their children be the best learner they can be and achieve more. Through a series of modules, parents will be offered manageable and practical ways of supporting learning through family life, and will be shown how making small adjustments to their approach at home can have a huge impact on their child's learning and long-term achievement. It is not focused on the curriculum and homework, but on generic learning themes.
The programme runs over a six-week period, with modules focused on:
•    Understanding how children's minds work
•    Understanding how confidence affects a child's learning
•    Exploring how to model and build positive relationships
•    Understanding how children learn and why this is important
•    Developing ways to support the growth of a child's talents and skills
•    Understanding the importance of thinking
Places are limited to 20 and will be allocated on a first come, first served basis. For further information, please email p2p@hertsforlearning.co.uk
Please note that once participants have completed the programme they are invited to apply to become Parent2Parent® Leads themselves and can go on to deliver the programme to other parents.
£0.00 (ex VAT)
£100.00 (ex VAT)