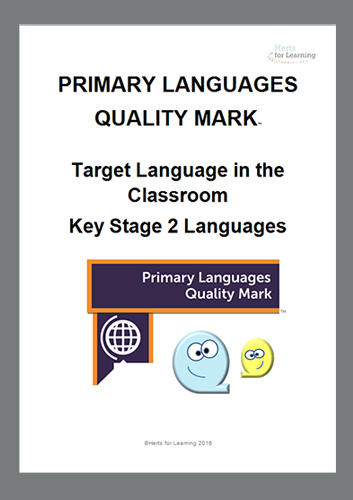 Target Language in the Classroom - Key Stage 2 Languages Resource Pack
HFL0007
The 'On Target' resource is designed to help KS2 teachers (specialists and non-specialists alike) become familiar with and use a range of simple, high-frequency target language structures so that French becomes a medium of classroom communication.  Moreover, the pack is designed so that teachers can also teach structures that generate pupil response.
Classroom routines and activities are ideal contexts for introducing a wide repertoire of spontaneous talk.  The language used will instantly be more accessible (as pupils will be familiar with the conceptual framework of the routine), frequent repetition of the vocabulary and phrases that become associated with certain classroom activities will help pupils internalise that language, and this embedded approach will increase their target language exposure exponentially.
The structures included in this resource have been chosen as high-frequency and highly transferable language.  Pupils will be developing a repertoire of structures that they can apply to other routines and situations and help them identify other situations in which language can be 'recycled'.  
Includes a CD of sound files.
Published in 2016.
£0.00 (ex VAT)
£30.00 (ex VAT)