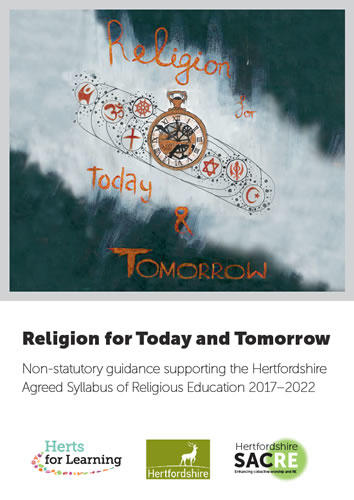 Religion for Today and Tomorrow
HFL0061
Also available as a digital download
The new non-statutory guidance to support the Hertfordshire Agreed Syllabus of Religious Education is an invaluable resource that will help practitioners to effectively organise their Religious Education curriculum. This 76 page colour supplement invites learning across the eight key areas of Religious Education for pupils in EYFS, key stage 1, lower key stage 2, upper key stage 2 and key stage 3:
guidance for planning
routes into learning
programmes of study planning charts
expected learning outcomes wheels for assessment
questions and ideas to develop learning and understanding of Christianity, the principal religions and worldviews and to explore deeper questions
links to the previous Hertfordshire non-statutory schemes of work
These two Religious Education publications complement each other as one provides the statutory requirements and the other supports high quality provision. Both documents can be purchased together as a special offer.