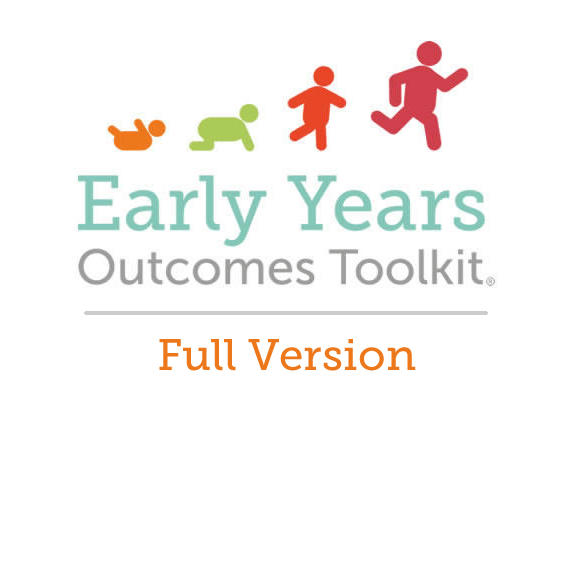 Early Years Outcomes Toolkit (EYOT) - Full Version
The Early Years Outcomes Toolkit is an essential tool that enables practitioners, leaders and managers in PVI settings, and non-SIMS using schools, to track and analyse the progress of individuals and groups of children in the Early Years Foundation Stage.
The Toolkit
demonstrates progress across the prime & specific areas of learning
tracks individuals and cohorts from entry across the Foundation Stage, building up a history of development and progress
identifies which 'typical development band' children are working within
shows whether cohort or individual achievement is below, within or beyond age related expectation
calculates cohort attainment (%) and measures steps of progress
On purchasing the Toolkit, you will be emailed an order form, which needs to be completed and returned, to activate your account on our website. You will also have the opportunity to complete a Direct Debit mandate. This ensures that your annual subscription is renewed automatically with no disruption to service.
28-day Free Trial
A fully-featured FREE trial version is available to download from here.
Pricing
An initial single-site licence fee applies with a subscription renewable 12 months after the month of initial purchase and then annually. When initially purchasing the Toolkit you will be charged for the licence fee and the first year's subscription.  Please note, each setting/school needs its own licence if part of a chain or group of settings, or if a member of a Multi Academy Trust.
Toolkit Size

Number of children on roll (in the EYFS)

Initial Cost* (One-off Licence Fee** +

1st year's subscription)


Annual Subscription* (2nd year onwards)

1
1-50
£225
£35
2
51-100
£285
£45
3
101+
£345
£55
* prices exclude VAT
** The Toolkit is co-sponsored by Herts for Learning and Hertfordshire County Council Childhood Support Services. The licence fee is FREE for Hertfordshire settings and supplied at a discounted rate for Hertfordshire Independent schools.
If you are a maintained or independent school, Multi Academy Trust or chain of settings, please contact us via email at resources@hertsforlearning.co.uk to discuss alternative pricing, as discounts may apply.  Please also contact us if you are an existing user and are in need of increasing the size of the licence.
System requirements
Local installation of Office 2007 or later (excludes Starter edition)
Windows 7 or later
Please note: The Toolkit is not currently supported on macOS devices.
Note
If you are purchasing the Toolkit on behalf of a PVI setting, e.g. as their lead agency or associated school, please ensure that you use their details as the Delivery Address on this order. If you are purchasing for multiple settings on the same order, please email their details to resources@hertsforlearning.co.uk, with your order reference, so that we can ensure the payment is allocated to the correct settings when the order forms are received.
£0.00 (ex VAT)
£35.00 (ex VAT)